KFC | Transforming Marketing Through Understanding of Customers with CDP
KFC's Digital Data roadmap for the Next 50 Years

Established in 1970, Kentucky Fried Chicken Japan K.K. ("KFC") is a restaurant chain with such strong brand recognition and a large fanbase that it is no exaggeration to say that everyone in Japan knows its name. In recent years, KFC's performance has been strong. In fiscal year 2020 (Ending March 31, 2021), which marks the 50th anniversary of the company's founding, KFC is expected to achieve record sales of 144 billion yen.
Tatsuya Noguchi, manager of KFC's Public Relations Department, explains the factors behind this growth.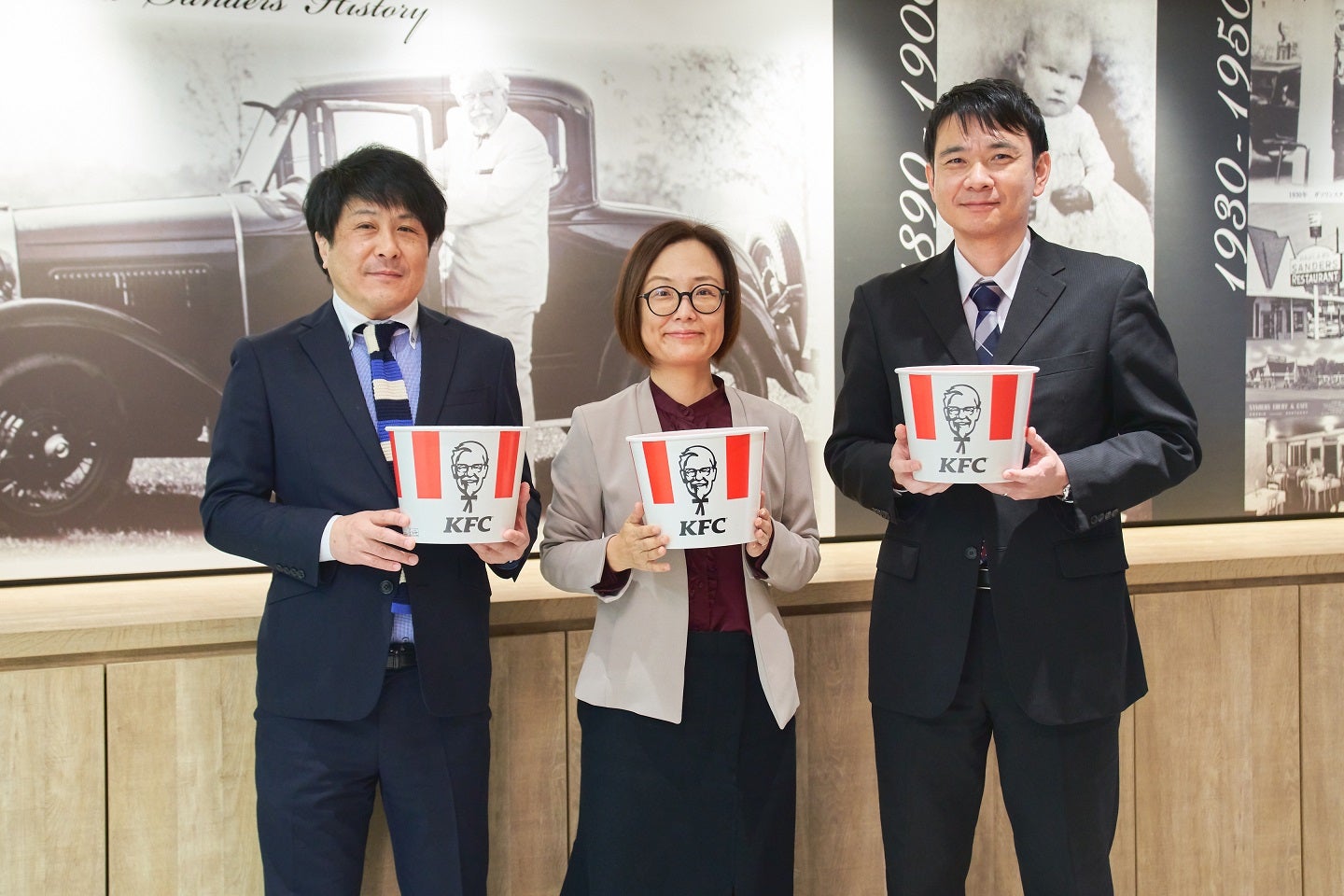 In 2020 takeout, drive-thru, and delivery services increased due in part to the growing demand for "stay-at-home" meals which increased KFC's business.
In addition, a three-year "return to basics" management plan started in FY 2018 also had a positive effect on sales growth.
Returning to basics means to enhance the customer's store and service experience by thoroughly implementing Quality "Products", "Services", "Cleanliness", and "Hospitality" in order to further pursue great taste, safety, and security as a chicken restaurant. This means a focus on enhancing the customer's store experience and service experience. We believe that aligning in-store experiences in accordance with this plan resonated with customers who have become more hygiene-conscious due to the global pandemic.   Thus increasing their willingness to purchase KFC products.
KFC is already looking toward the next 50 years. In its new medium-term management plan announced in April 2021, the company set goals including  "Making KFC an Everyday Brand," "Closer to Home, More Comfortable," and "Pursuing Safe and Secure Taste."
KFC's Digital Milestones
The major goals of the new medium-term management plan are to refine products centered around their Original Chicken in order to increase the number of KFC fans, make KFC even more popular to purchase on a daily basis, and to develop products and services that suit all occasions and times of day. To achieve this, we are expanding our lunch menu and taking on the challenge of creating hearty sandwiches that can be enjoyed by the younger generation and business people. We are also planning to increase the number of restaurants.(Mr. Noguchi)
In addition to these measures, the effective use of digital and data is positioned as an important factor in the new medium-term management plan. The further effective use of digital and data can transform KFC into a familiar and comfortable food service that consumers use on a daily basis.
KFC has a history of adopting innovative digital technology for marketing and CRM, and is utilizing technology to go beyond mass advertising such as TV commercials to reach the target audience  through new digital channels such as official apps, Social Media, and e-mail newsletters.
The KFC official app has more than 21 million downloads, and the official KFC Twitter account has grown to 1.96 million followers since 2010. In addition, the official LINE account launched in 2012 and now has the largest number of friends in the restaurant industry at 24.2 million* and counting.
*As of December 31, 2021
In addition, KFC relaunched the KFC App in February 2021. This revamped app makes it easier to view the latest information on KFC products, nearest stores, improves the ease of earning Chicken Miles for the KFC loyalty program, and the app can deliver a variety of coupons. In addition, we have added the ability to connect with LINE, the KFC Card, the Ponta Card loyalty card, as well as accept online orders and delivery services. Most importantly, we have added member registration and login. Yasuki Hamashima, Acting General Manager of CRM Promotion, KFC Marketing Department, explains the goals of this project:
The previous KFC app did not have a member registration function, so customers had to re-set their ID and password from scratch every time they changed to a new smartphone. With the new version, customers can log in with the same ID and password even if they change their smartphone model after registering as a member. This allows us to integrate the customer ID for the KFC app and the existing KFC member (Colonel Club) member ID as a universal "KFCID" creating an environment where customer data is integrated around a common ID for all services.
Just show your membership card at the register when you pay.
Why CDP?
One of the major challenges in developing these digital initiatives was how customer data was siloed by service, which made it difficult to understand the entire customer journey.
The POS systems that connect our customers to our stores, KFC mobile apps, Social Media, e-mail newsletters, websites, and Ponta membership cards accumulate data on customer behavior on a daily basis. However, the "box" or database system was different for each of these channels. Therefore, it was very difficult to get an overall view of how individual customers were using KFC's services," said Hamashima.
The company chose to integrate and utilize customer data through a Customer Data Platform (CDP) to resolve these issues.
By integrating all customer data through the universal customer ID (KFCID) into a centralized CDP platform, we hoped to understand "Who uses the KFC app, how often, at what stores, what products they buy, what services they use, and what time of day they make purchases'' as well as "What drives customers to take these actions? Once we understand these, we can create a process of continuous testing and improvement to discover what marketing measures would be effective in increasing customer lifetime value. We hoped to reinvent how we approach marketing by integrating and utilizing customer data with CDP. 
 
Mizue Matsuki, CRM Promotion, KFC Marketing Department, explains the use of CDP as follows: "Our goal is to make KFC an everyday experience for our customers. We hoped that using CDP to centrally manage all customer data would enable us to analyze and better understand our customers so we could better meet their needs and encourage them to have an interaction with KFC every day. In addition, by consolidating all customer data in the CDP, we can understand all the data that we have on our customers and how it can potentially be used.
How KFC integrates customer data with CDP
KFC selected Treasure Data CDP after considering several other CDP products because Treasure Data CDP has the capability to execute a variety of use cases spanning different industries and business categories, while also providing a wide range of connectors for data integration with external systems. Figure 2 illustrates the customer data integration and utilization architecture that KFC has developed using Treasure Data CDP.
According to Mr. Hamashima, in building the infrastructure for integrating and utilizing customer data with Treasure Data CDP, KFC wanted to integrate all customer data that could be used for marketing purposes. In addition, we have integrated Tableau for data analysis and visualization and can execute marketing initiatives such as loyalty programs, coupon distribution, LINE communication, advertisements, push notifications, and recommendations on the website are being personalized for each customer segment.
In October 2021, KFC completed the integration of Treasure Data CDP with its various data sources. Since then, Mr. Hamashima revealed that the company has been focusing on new Proof of Concept test marketing using Treasure Data CDP in cooperation with the marketing staff responsible for planning product campaigns.
In the summer of 2021, we conducted a test to remind customers of summer-only products that they had not purchased yet that summer, even though they had frequently purchased those products in the previous year. We feel that finding effective customer segmentation through experimenting like this is important for future success.
Why did KFC select INCUDATA for implementation?
KFC selected INCUDATA as its implementation support partner for Treasure Data CDP.  Mr. Hamashima recalled that INCUDATA's implementation support was the main reason for choosing Treasure Data CDP.
We do not have a data management specialist, so we needed an outside partner with expertise in the specialized aspects of integrating data within a CDP. INCUDATA has extensive knowledge not only in building a CDP-based infrastructure, but also in data management and digital marketing strategy. We knew INCUDATA could provide us extensive support to develop strategies that utilize the CDP. In fact, without INCUDATA's support, we may not have been able to move forward with this CDP implementation project. (Mr. Hamashima)
According to Mr. Hamashima, INCUDATA provided support from the initial stage of passing the internal approval process for CDP implementation, through promoting an understanding of CDP within KFC. In addition, building the CDP infrastructure required collaboration with other departments, including the Corporate Planning Department and the Information Systems Department, which is responsible for customer data management.

Matsuki also praises INCUDATA's contribution, saying, "INCUDATA has been a great help to us.
As marketers, there were many technical terms related to CDP that were unfamiliar to us. INCUDATA was very helpful in explaining these terms around marketing terminology. We are very grateful that we were able to build a relationship with INCUDATA not only to implement the CDP, but also to work together after the CDP was in operation," said Matsuki.
Improving Customer Experience with CDP
Mr. Hamashima is looking to utilize this CDP data foundation not only to enhance marketing, but also to improve the quality of customer experience.
We will likely continue to see customers' lifestyles and purchasing preferences change, and technology will continue to evolve," said Hamashima. We understand that a major focus for KFC will be to determine how to use digital touchpoints and data to enhance the KFC customer experience in the midst of these changes," Hamashima said.

We believe that we have taken the first step toward improving the quality of customer experience utilizing data with CDP. It is important to continue to move forward beyond this first step, and we look forward to further support from INCUDATA in this effort.
*The information in this report is current as of December 2021.
*Company names and product/service names mentioned herein are registered trademarks or trademarks of the respective companies.